Oooooh spooky...... Happy Halloween everyone!
How lucky that Halloween landed on a Thursday this year. That means, along with Trick Or Treat, Bobbing For Apples and scary costumes, we can also enjoy Thursday Treasury today! Yay!
Of course it would be outrageous of me to put together a treasury today that
isn't
Halloween themed, so this week it is all about...Pumpkins!
All relevant information about this treasury, including sellers + items can be found
here
.
Pumpkins can be a great creative inspiration due to their texture and colour. The collection I have put together for today is BURSTING full of inspiration. Take for example the colours, I included the more traditionally seen yellowish, orange pumpkin which have a gorgeous warm feel to it. However, I also made sure to include other colours such as blue, wine, green and black + white. It's important for me to show that thinking outside the box is a great way to mix it up and keep things fresh. Who says a pumpkin has to be orange?
Another huge source of inspiration from this treasury is this embroidery pumpkin design by The Applique Diva.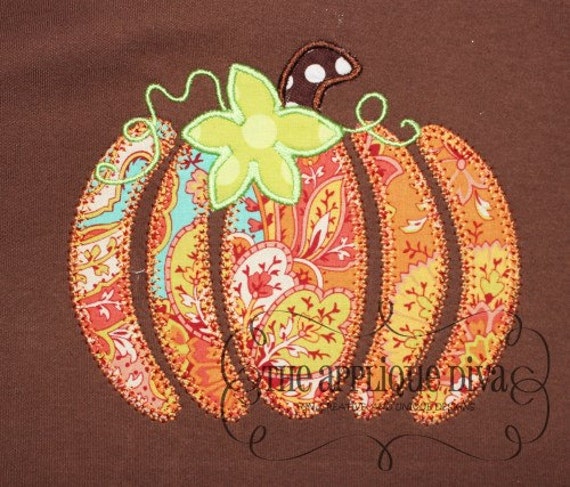 I can see how this could be transferred to a canvas layout so easily. The pumpkin shape could be pieced together using different orange (or maybe not!) patterned papers or even fabric and then texture and embellishments could be added. I think it would make a cute little Halloween decoration that is different from the usual fake cobwebs and plastic spiders.
This project might even make a good activity to do with children this Halloween! I hope you enjoyed this week's treasury as much as I did making it.
I am off to enjoy my evening by watching my all time favourite Halloween movie - Hocus Pocus!!!
It never gets old, and clearly neither do I!!
Have a safe + happy Halloween my friends!
Ciara
xoxo