Hi everyone!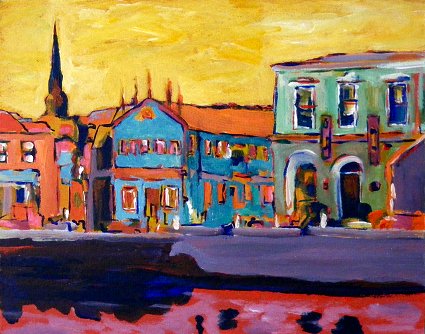 Today I thought I would share with you some of the delights of Wexford, seen as I have been spending some time here the last few days. This is what Wexford, my home, means to me. Others may differ but this is what comes to mind when I think of home.
The Quay
What can I say about the Quay? It has to be one of my most favourite places in the world. On a fine, sunny day there is no where nicer to walk than down the Quay. You will see people out walking with their dogs or their children, people in cars on one side you driving about their business, and the sea on the other, housing large fishing ships.
Before the Quay was done up, it was known as the 'wooden works' and looked like this

But in the '90s a big regeneration project took place on it and despite the contractor going bankrupt, the quay was a great success. Now the public and fishermen share this great asset.
The People Paper
The Wexford People is a local newspaper that is published once a week in Wexford for the people of Wexford town and Co. Wexford. It contains news, stories and information mainly about Wexford and the surrounding areas.
For me the People paper is one of those constants that we all have in our life. Every Wednesday it was People paper day (I think it might be Tuesdays that it is published now which breaks my heart a little). Mam would always pick up a copy coming up home from the town (and probably end up buying a bar of chocolate too, don't deny it Mam) and flick through it with a cuppa. There was usually nothing of much interest in it but everyone from home will agree with me on this, you had to get it in case you'd miss anything. It's the same as gossiping really, you have to have a nosey in it to see if there are any photos of anyone you know in it, did the photographer manage to spell their names right this week, what is the latest scandal in the community, and the highlight of the elderly reader - the death notices.
Now it would be a sin to be talking about Wexford papers and not mention the People's rival, the Wexford Echo. The Echo is pretty much exactly the same as the People, I don't know what the difference is so I won't pretend to. There must be a difference or there would be point to it so maybe some of my Wexford readers can enlighten me on that. Anyway, when I was growing up I always had the impression that you were either a People household or you were an Echo household. It just seemed to be that you either read one or the other and you would NEVER dream of buying the other paper if yours wasn't available! Maybe that was just our house though. And of course there was, and I'm sure still are, those poor mixed up souls who buy both papers..... well fair play to them, if they want to read the same news twice. No, maybe I'm being too harsh on the those who buy the two papers, it must be because they are looking to see what jobs are in the back of it. That's what it must be.
Chippers
Now this is a touchy subject because there is an on going debate among Wexfordians about which chipper is the best in town. But it's hopeless lads because we all know that it's the Premier for the rissoles and plenty of salt and vinegar hun, wrapped separately, thanks very much.
Now, for those readers of mine who don't know what the heck I'm on about I'll do my best to explain.
Depending on which end of Wexford town you come from you will have a sort of allegiance to a particular chipper. I come from the South end of the town and so this means that I swear by the Premier. If you come from the North end of town you may favour chippers such as Cafolla's or Pomme Frites. If you are some where in the middle well, you can have Sharkey's.
I also have the option of Mangan's around the corner, which I must admit, their taco fries are deadly, but when I want a rissole or a battered sausage there IS no other chipper in town that will do the job only the Premier.
The Rocks
The Rocks is a large green area in the South end of Wexford town. It is called the Rocks because it has massive rocks spotted around the area, just like in the picture. When my Dad was a child, he spent every waking hour during the summer running around and playing and getting into all sorts of mischief up in the Rocks with his siblings and friends. And during my teenage years it was a regular hang out spot for my friends and I.
Unfortunately, in subsequent years the Rocks has taken a bit of a nose dive, and it isn't really a very pleasant or in fact safe place to be. I can't remember the last time I visited the Rocks but it has definitely been years. It's an awful pity because it has so much potential and it is such a wasted area if it is such left to go to rack and ruin. Maybe some day something will be done with it to improve it.
Art Centre
The Wexford Art Centre has great significance in my life while growing up in Wexford. I remember the first time I set foot in the Art Centre, it was to take part in a children's art workshop. I even remember that I painted a under water scene with fish and all that kind of thing!
Through seeing exhibitions in the Art Centre and availing of the fantastic art classes that took place there, it helped to develop my love for art even further. I loved having that resource there in my home town, a place of refuge where I could go whenever I felt I need my art fix.
These are only a snippet of what I love about Wexford. There is so much more that I could show you but this post would be a very, very, very long post then. I may do a follow up in the future on some more about Wexford but for now I will be enjoying my time left here before I have to go back.
I hope you enjoyed this post. If you have never been to Wexford I urge you to visit it as soon as possible it's a really beautiful place.
Take care
Ciara
xoxo